The Yorkshire 3 Peaks Itinerary 
We recommend an early start this gives all participants the best opportunity to complete the 39.2km (24.5mile) route and takes advantage of daylight.
Traditionally the challenge has a time limit of 12hrs, therefore be prepared to finish your day around 7-7:30pm. The timing below is only an approximation as many factors affects the speed of individuals or group including weather conditions.
There are several alternative starting points to this challenge, and you can walk clockwise or anti-clockwise around the route.
We recommend the traditional itinerary below, beginning the Challenge at 7am in Horton-in-Ribblesdale, and walking anti-clockwise, Pen-y-Ghent first, followed by Whernside and finally Ingleborough before returning to Horton.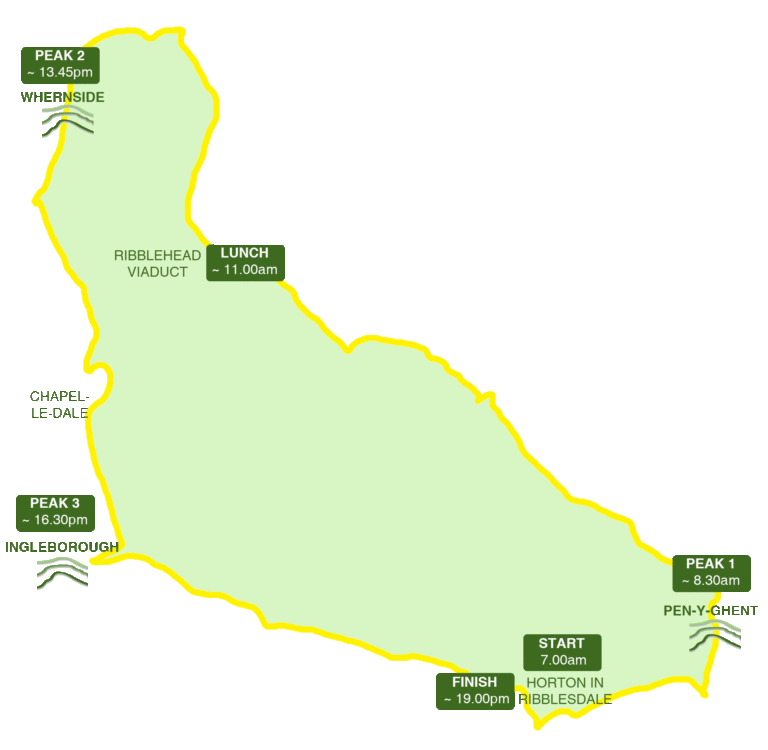 The Yorkshire 3 Peaks Itinary
Meet in Horton-in-Ribblesdale for introductions and a safety briefing.
Start the walk towards Pen-Y-Gent.
08:30am approx. Summit of Pen-Y-Ghent
Onwards over Horton Moor towards Whernside, this is a long stretch, about 12km, we stop at the famous Ribblehead viaduct for a well-earned break, lunch and refreshments roughly 20mins.
Lunch at the viaduct 20mins.
Set off towards Whernside, from the viaduct towards the summit.
14:30pm approx. Summit of Whernside
Descending Whernside toward Chapel-Le-Dale, stopping for a 15min break at Philpin Farm for refreshments, (note the cafe is only open from 1st May – 1st Oct.) toilets and vending machine available all year round. Crossing the main road B6255 to start the ascent of Ingleborough.
Set off towards Ingleborough, from Philpin Farm towards the summit.
16:30pm approx. Summit of Ingleborough.
We aim to complete the challenge by 19:00pm, that leaves around 2.5 hrs to descend Ingleborough back to the start point in Horton-in-Ribblesdale, this should be plenty of time. Of course, these are just approximations and actual timings will vary.
These are approximate timings and will of course vary.